When mutual aid becomes more prevalent,
people's 'Thanks' may spread.
CSR
The world is accumulating by problems that need to be solved, ranging from daily worries of individuals to Japanese society as a whole, to an international and global scale. Within such society, CSR (Corporate Social Responsibility) represents OKWAVE's role within the society and the MISSION of OKWAVE, "Contributing to the world development through the creation of platforms for mutual aid, thus fulfilling people's physical and mental well-being."
The effort for measures against Coronavirus disease (COVID-19).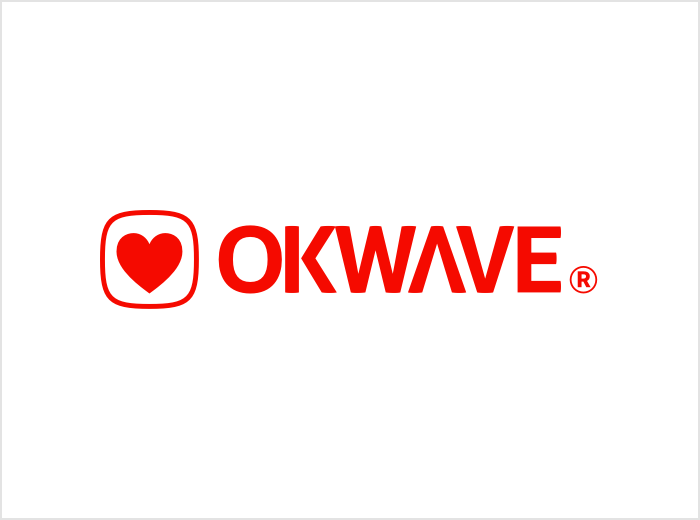 Promoting a platform for "mutual support" where you can post anxieties and worries which relate to the COVID-19.
On the Q&A community website OKWAVE, the post about various anxieties, worries, and doubts due to the spread of COVID-19 increased, and many people use it as a platform for "mutual support." We ran a campaign for the third consecutive month with gratitude to all the respondent users who responded to the questions from users who had worries and doubts and generated gratitude.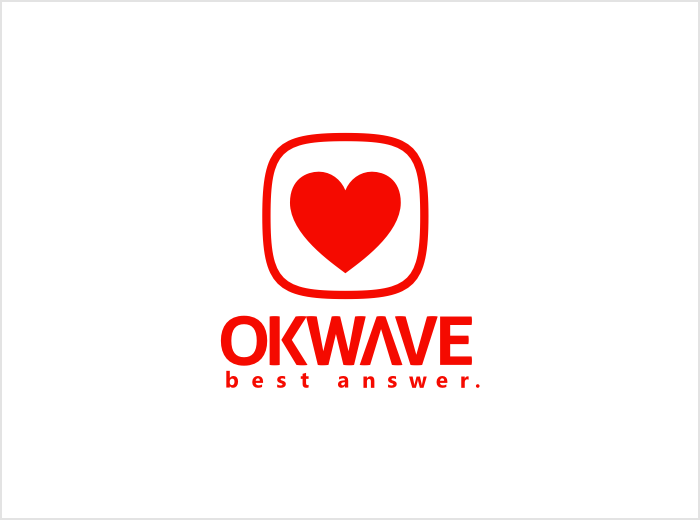 The effort for measures against Coronavirus disease (COVID-19) within the Company.
The company has set up an emergency response center, headed by the COO, which follows measures to prevent the spread of infection while taking into account the spread in Japan and overseas, and the views of the government, and expert meetings.

Details are as follows.(Updated on May 27th)
Implementation period:

February 19th (Wednesday) to June 30th (Tuesday), 2020 *The decision to continue or cancel the permission system to come and work at the office will be decided based on the future progress.

Target:

All employees (All employment types, including temporary staff.)

Details of countermeasures:

・Permission system for come and work at the office, and visit outside of the office for business purposes.
・Regarding seminar events held in-house would stream online, or suspension of implementation.
・For company visits, visits are made upon request or a Web conferencing system tailored to the customer's environment.
The initiatives which made through OKWAVE's products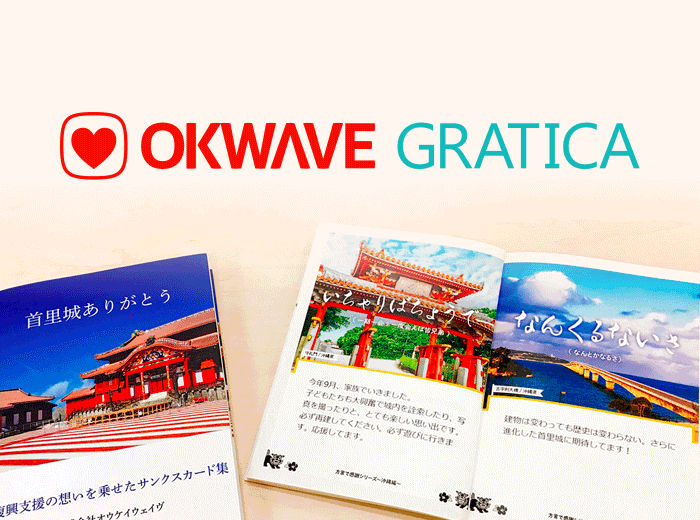 Donation to the Shuri-jo Castle to support for reconstruction money through the thanks card service "OKWAVE GRATICA."
OKWAVE implemented the "Shuri-jo Castle reconstruction assistance campaign" at "OKWAVE GRATICA," an online thanks card service that companies and organizations can introduce free of charge. "OKWAVE GRATICA" users such as Sompo Japan Nipponkoa Co., Ltd., Epco Co., Ltd., OKWave, Inc. together sent a message of support and a total donation of 143,800 yen to the Shuri-jo Castle.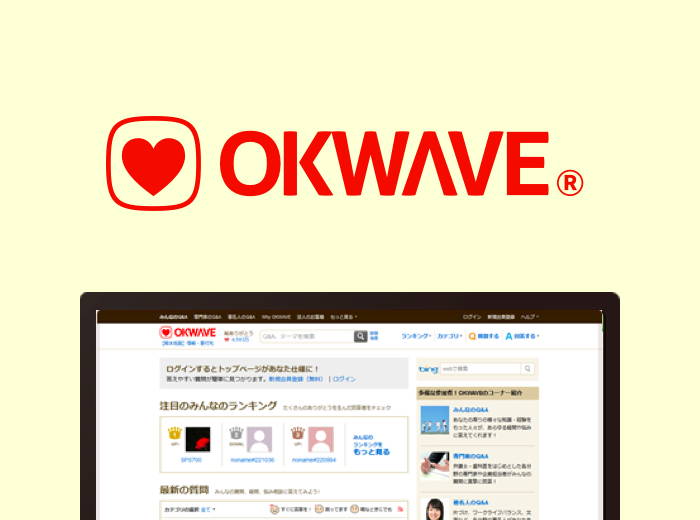 Introducing useful Q&A in case of disaster within the "OKWAVE," and donation links in the event of large-scale disasters such as typhoons and earthquakes.
In the event of a large-scale disaster such as the heavy rain by Typhoon Man-yi in September 2015, and Kumamoto Earthquake in April 2016, we introduce information such as links for donations and provide the OKWAVE's Q&A which would be helpful during the disaster. We will continue to provide the platform for disaster victims to ask questions to consult and to build future knowledge.
Initiatives through human resource development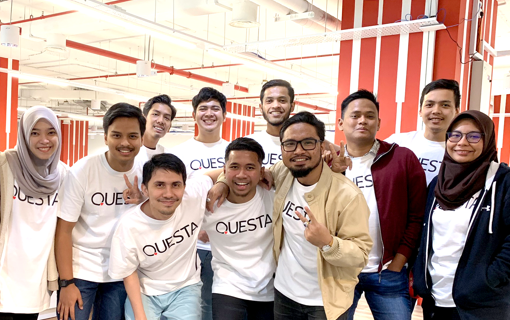 OK BLOCKCHAIN CENTER, an overseas sub-subsidiary of the company, partnered with Universiti Teknologi Malaysia (UTM)
An oversea sub-subsidiary, OK BLOCKCHAIN CENTRE SDN. BHD., (hereinafter, "OBC") has concluded a partnership for joint research on the blockchain with Universiti Teknologi Malaysia (hereinafter "UTM"). It aims for further development of blockchain technology, recognition of blockchain technology in Malaysian society, as well as diffusion of the digital economy. Carry out joint projects between the OBC and UTM and the educational/promotion activities. The content of the agreement is as follows;
・Sharing information and expertise related to the blockchain technology,
・Use of blockchain-based solutions,
・Exchange academic materials and information, and
・Joint venture for publishing and research.
Operate joint seminar for the practice-based course with Tohoku Fukushi University
Tohoku Fukushi University and OKWAVE jointly held "Off-campus fieldwork about "gratitude," to support students' fieldwork. This course aims to acquire the abilities of planning, execution, presentation, and verification that students required before getting into society, and to carry out the fieldwork to cultivate their observational and insightful for "gratitude" through off-campus community activities.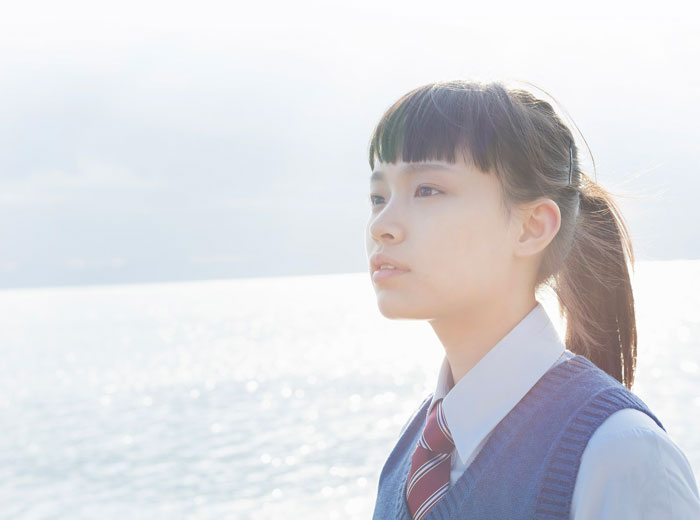 Support project for "Tobitate! (Leap for Tomorrow) Study Abroad Initiative"
OKWAVE agreed with the purpose of the "Tobitate! (Leap for Tomorrow) Study Abroad Initiative" and started a project to support international students. To forward the gratitude received from someone to the next generation, we have set up the platform to use "OK-Tips" as a donation for supporting international students. We also held a special program for young people who are considering studying abroad but feeling uneasy could directly consult with people who have experience living overseas.
OKWAVE NPO Knowledge Sharing Support Program
「OKWAVE The "OKWAVE NPO Knowledge Sharing Support Program" is OKWAVE's NPO support and social contribution activity that supports specified non-profit corporations (NPO corporations) that actively solve various social problems prior to the government. We support NPO activities that meet the company's guidelines by providing our company products and services free of charge, which includes the FAQ system "OKBIZ." Notably, we will cooperate to ensure smooth activities by sharing our problem-solving tools such as Q&A and FAQ within the areas where human resources are limited for sharing information, exchanging opinions, and responding to inquiries both internal and external the NPO organization. We are hoping to increase the awareness of NPO activities through our products and promote further understanding.
The organizations that OKWAVE supports activities with donations and cooperation.
OKWAVE donates the royalties of "OKWAVE" related books and so on for various organizations. We are especially actively keen on two particular areas: "food" and "education." We are hoping to improve health and educational opportunities for future generations and their families and do anything, even though small, towards realizing it. The following are the details of the activities of organizations that we donate and cooperate with giving support.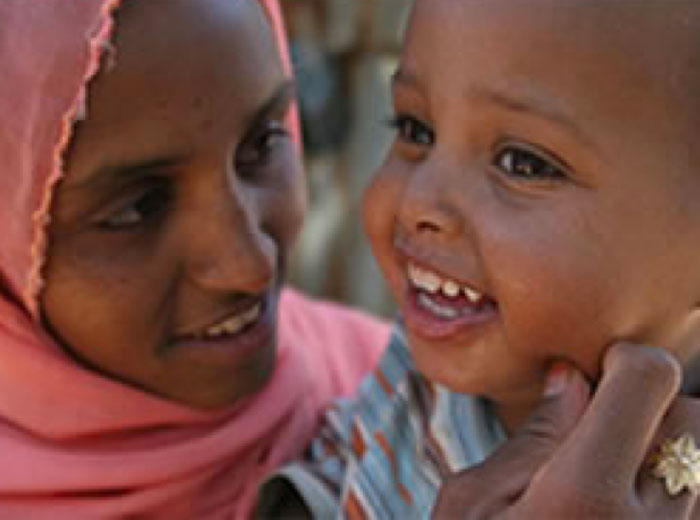 The Japan Committee for UNICEF
UNICEF (UNICEF: United Nations Children's Fund) is currently active in over 190 countries and regions to fight for every child from infancy to adolescence for their life and healthy growth. Supporting activities, including health, nutrition, water, sanitation, education, protection from violence and exploitation, HIV / AIDS, emergency assistance, advocacy, and more operated. All the fund is entirely covered by voluntary contributions from corporations, civil society organizations, individual donors.
UNICEF has National Committees in 33 countries and territories worldwide to conduct fundraising, public relations, and advocacy activities (policy recommendation). In 1955, the Japan Committee for UNICEF established as the official point for contacting UNICEF based on a cooperation agreement with UNICEF. The Japan Committee for UNICEF is the point of contact for UNICEF fundraising, public relations, and advocacy activities in the Japanese private sector.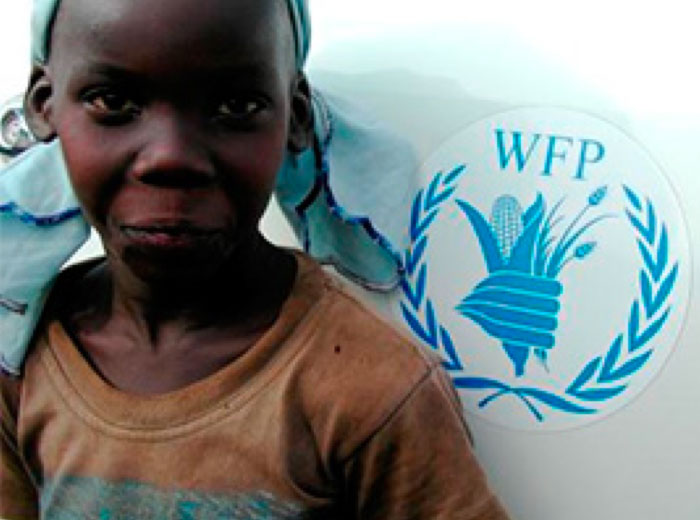 Certified NPO organization Japan Association for the World Food Programme
The world has enough food for everyone. Although about one in nine people in the world, a total of 805 million are suffering from hunger today.
The Japan Association for the World Food Programme is the association working to eradicate hunger and poverty as its mission as a food support agency by the United Nations. They provide food supplies to those who are suffering from poverty, the victims of natural disasters and dispute, pregnant and breastfeeding women, malnutrition children, orphans, sick persons, and elderly peoples.
In 2013, it provided 3.1 million tons of food assistance to 80.90 million people in 75 countries.
※World Food Programme (WFP) is a collective term for two organizations, United Nations World Food Programme, and the Japan Association for the United Nations World Food Programme, which is the certified NPO that supports United Nations World Food Programme.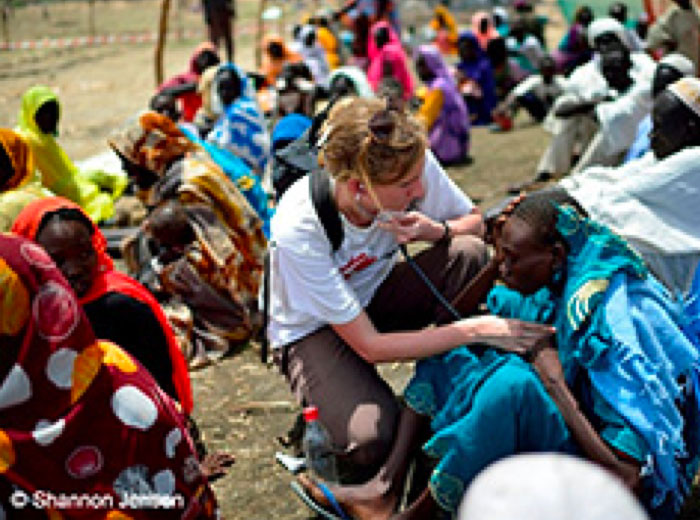 Certified NPO corporation Doctors Without Borders Japan / Medecins Sans Frontieres Japan Association
Doctors Without Borders (Medecins Sans Frontieres = MSF) is a private and non-profit international organization that provides medical and humanitarian assistance activities in a neutral, independent, and impartial position. MSF established in 1971, and the Japan secretariat established in 1992.
MSF's activities aimed at meeting urgent medical needs. It covers a wide range of people, including victims of conflicts and natural disasters, and those who cannot receive health care services for various reasons such as poverty. MSF has 28 offices worldwide. Mainly active in developing countries such as Africa, Asia, and South America. In 2013, more than 36,000 overseas dispatched staff and local staff conducted activities in about 70 countries and regions. MSF Japan sent 71 people for a total of 96 times, working in 24 countries and regions.
Private contributions almost entirely fund the MSF activities. They are also recruiting staff to dispatched to activity sites throughout the year. Additionally, they attach great importance to status reports on the activity site, testimonies, and public relations activities that deliver the voices of patients.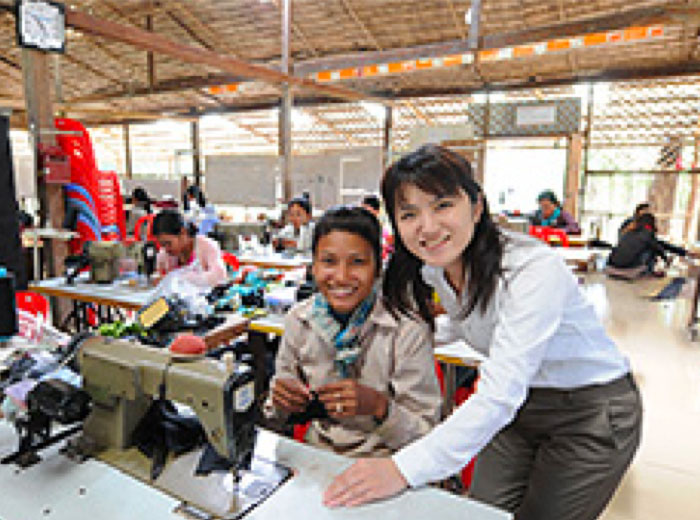 Specified Nonprofit Corporation Kamonohashi project
There is the life sold for the price of 30000 yen in this world. Enhancing the Anti-Human Trafficking Ecosystem, the Kamonohashi Project started and centered on the project in Cambodia. The project of the organization includes providing police training programs in the area where the environment with human trafficking for children, Community Factory Project for at-risk women in poverty to build long-term economic independence, and more. In 2010, the organization started its research in India, where the problem is serious, and officially expanded its activities to India in 2012. The organization believes it is better to collaborate and form a partnership with multiple local NGOs rather than independently undertake to eliminate the problems. The organization will grapple the issue to build a world without human trafficking, and create brighter futures where children could have the ambition for their dream.
OKWAVE cooperates with the provision of facilities and equipment such as our conference rooms as a venue for activity briefings.
Specified Nonprofit Corporation Fathering Japan
Fathering Japan is the social business project developing a "father supporting program" with the concept "Fathering = enjoy for being a father." "When a child is born and becomes a father, I want to enjoy life while balancing work and childcare." The idea for "Fathering = enjoy for being a father" is spreading to younger fathers; however, the social awareness within the workplace and society in Japan remains the old standard. Fathering Japan spreads the understanding of "fathering" with its father supporting program to increase the "smiling father" instead of the "good father," and aiming to create a more significant change within Japanese society in ten, twenty years as their mission. Fathering Japan believes that this will revise the way of work, change the awareness in companies, and eliminate the unset of society.
For Fathering Japan, OKWAVE provides the Q&A community as the "OKWAVE NPO Knowledge Sharing Support Program."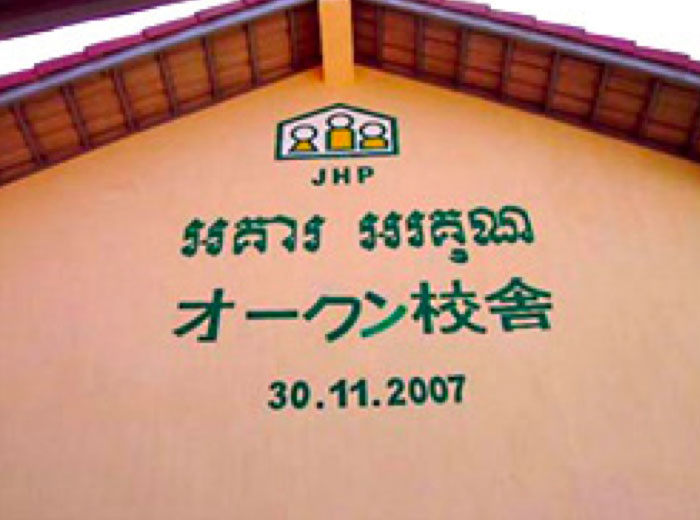 Specified Nonprofit Corporation Japan Team of Young Human Power (JHP)
The Specified Nonprofit Corporation Japan Team of Young Human Power (JHP) is the organization that helps to provide an educational environment in the disaster area. The representative of the organization Mieko Osanai is known as the scriptwriter of Japanese television drama series, "Mr. Kinpachi in Class 3B." So far, 327 schools built up to now, mainly in Cambodia (as of March 2015). JHP stands for JAPAN TEAM OF YOUNG HUMAN POWER. Cambodia as the first target country, JHP has been active as an NGO/NPO where young people with a spirit of humanitarian assistance gather since 1993 with the theme of "school" and "education."
In 2008, with our donations, OKWAVE became a godfather to completed the construction of the new school building the "Okun School" (Okun, which named after Thank you in Khmer) at the elementary school in Cambodia.