Technology
Three Core Technologies
To promote the business of "Contributing to the world development through the creation of platforms for mutual aid, thus fulfilling people's physical and mental well-being," the company positioned the following as the core technologies; AI (Artificial Intelligence), Blockchain, and Cyber Security (Information Security). By its initials, we call "ABC technology." Here we introduce our approach to "ABC technology."
AI (Artificial Intelligence)

"KONAN"

"KONAN" is a project name that collectively refers to research and development in the AI (artificial intelligence) field that we are undertaking.
We establish an original AI that performs machine learning by combining "OKWAVE" Q&A data, member attribute data, behavior data such as browsing history of site visitors, and various external data such as weather information. The application for products and services has already started.
Such as AI agent "Ai" on the Q&A community website "OKWAVE," "OKBIZ. for AI Chatbot," which specialized in customer support built-in the chat system, and "OKBIZ. for AI FAQ Maker," which supports FAQ creation through AI analysis, are part of which already released.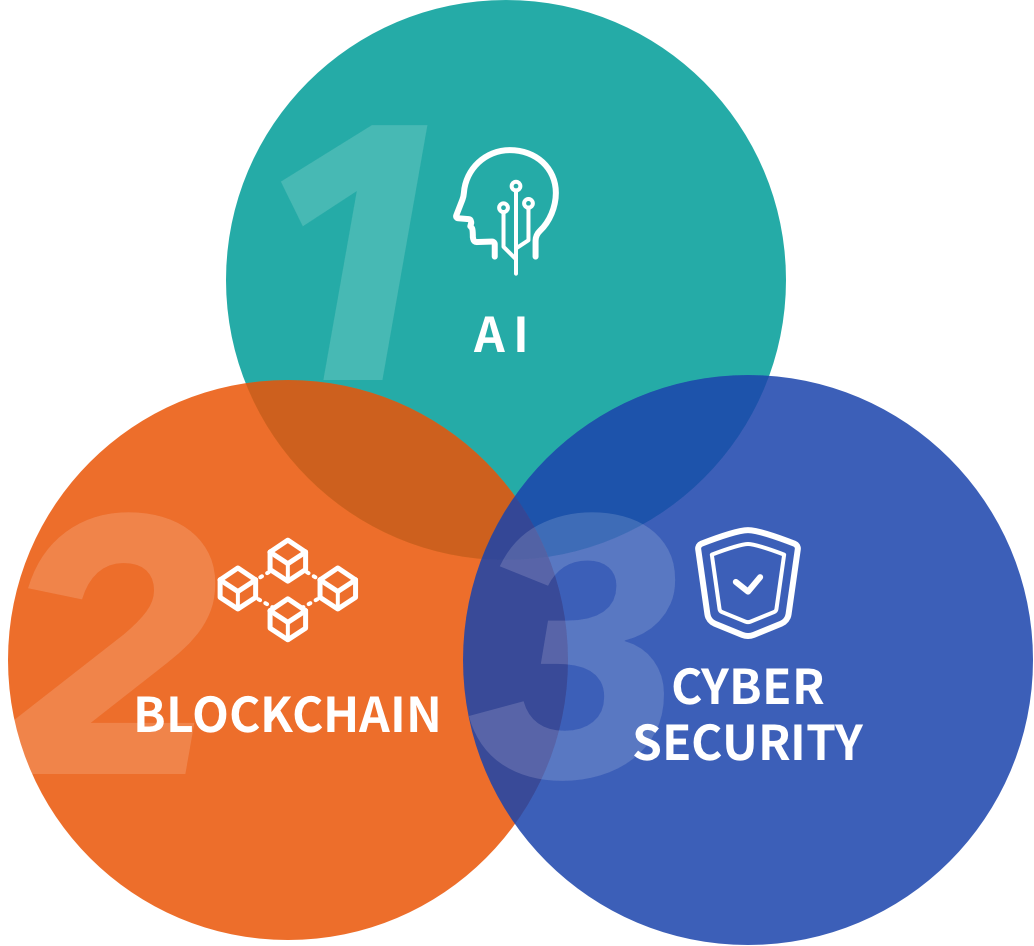 Blockchain

"Thor's Hammer"

"Thor's Hammer" is a project name that collectively refers to the research and development of blockchain-related technology that we are undertaking.
In September 2015, to the prior of the recent boom of virtual currencies, we implemented the use support function for the virtual currency "Bitcoin," which is commonly used worldwide to the "OKWAVE" as the earliest in the online community.
The technology that supports this "Bitcoin" is the blockchain. Blockchain is the basic technology of data processing by the P2P method. It characterized by multiple computers forming distributed consensus algorithms and processing multiple data in block units, which realizes extremely high security that is preventing fraud. Therefore, Blockchain is expected to apply for various fields.
The company begins to develop and release the company's original blockchain, "Thor's Hammer" and related products alongside.
Additionally, as our CTO, Mr. Jinnai is also a director of the Blockchain Collaborative Consortium (BCCC) and working to disseminate the education for blockchain engineers.
Cyber Security (Information Security)

"DANANG"

"DANANG" is a general term for information security research and development projects that the company is undertaking.
Information security measures are indispensable as the Internet develops. From an earlier stage, we have been acquired and maintained the international standard for information security ISO27001, and established an in-house organization CSIRT that handles security measures for our operation services and providing systems to responses in case of emergency.
With the business alliance with the U.S. company Palantir Technologies, which has proliferated in the field of fraudulent transaction detection using big data analysis, we acquired advanced information security technology through its products and enhanced our products' security and services. Additionally, we sell the company's products, including the virtual currency-related market.
Challenge to technology
OKWAVE is not only about engineering, but by making business contributions through proactive proposals, we try to make a change in time, people's lives, and industries, and continuously challenges to improve the quality. By using our extensive skills of technologies, we are aiming to create the engineering group which could change the world.
The occupancy rate of 99.99%

The occupancy rate of OKWAVE service exceeds 99.999% for both corporate and consumer uses. As the standard of annual service downtime is less than 53 minutes, this occupancy rate is a very high level of service quality compares to the domestic Web services. To keep maintaining this quality, we are constructing a system that allows us to carry out system improvement and new function releases in parallel while taking repeated measures from both aspects of infrastructure and applications.

Business chat

Within the real-time support service markets, including customer service on the Web, we aim to strengthen engagement between companies and customers and strengthen knowledge management within companies. Also, users will be able to make inquiries to companies using their existing social media accounts, which will significantly increase convenience. We are aiming to provide next-generation products and services with high added value.